Boarding
The Lodge at Shoal Creek Animal Hospital features a 124 run facility for dogs and a separate 6 condominiums for cats. Our Lodge is climate controlled. Every guest has an individual run ranging in size from standard 3×6 to the spacious 6×8 luxury suites.
In our quest for the highest quality of service and to provide your dogs with a safe, healthy place to play and stay, we went green with artificial turf exercise areas and client accessible webcams! No matter the weather during their stay, your pet will enjoy playing in our spacious indoor and outdoor play areas!
State of the art accommodations and a variety of care packages will allow you to choose the level of care you would like our staff to lavish on your pet. Choose your accommodations and care package.
Our One Tail at a Time Packages provide special attention and privatized care to the pets that do not fancy large group play. We also offer on site veterinary and grooming services.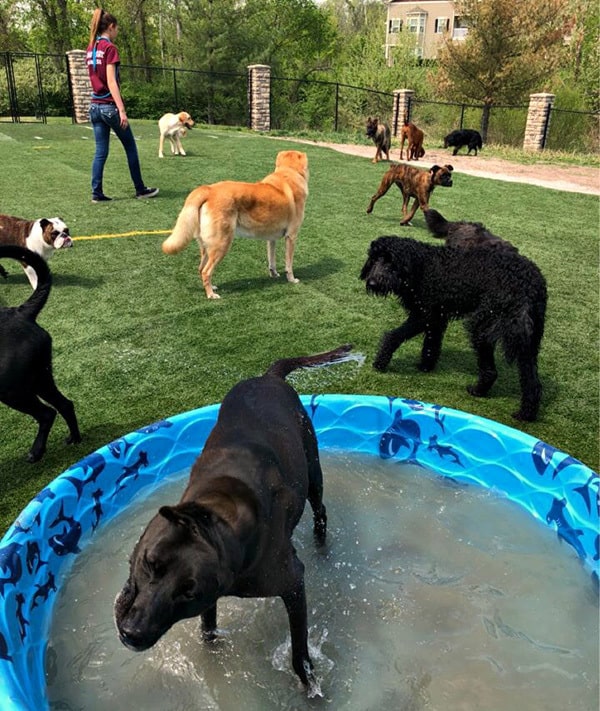 Click here for our vaccination requirements.
We offer both canine and feline boarding options. We have runs of various sizes to accommodate your pet's needs. Please call us to discuss your options and pricing.
Wagtastic Extras:
Divine Canine Bath
Paw-dicure
Doggie Ice Cream
Pick Up After 12pm
*Please note that there are additional fees for holiday boarding. We appreciate your understanding.
Boarding Tranquility Package
Boarding your pet can be stressful on you and your pet. We have designed Tranquility package to help dogs and cats that just need a little extra TLC while in boarding and these packages will help ease your mind that you family member is calm and relaxed while in boarding.
The holidays are very busy in boarding facilities and that alone can add stress to your pets stay. We can't think of a pet that would not benefit from this package!
Tranquility overnight package offers 3 calming services that include:
A daily dose of Zylkene, an ALL-NATURAL Milk Protein Supplement:
Zylkene helps pets adapt and cope with changes smoothly
Ideal for short term or long term
It is not a tranquilizer but will keep your pet calm without affecting their personality!
Adaptil Turndown service:
Adaptil is calming pheromone spray proven to support dogs in many stressful situations. We have watched it work and love it! Truly a secret to some happy dogs!
At bedtime a blanket or pillow will be given to your dog sprayed with Adaptil. This will create the ideal stress-free and calm environment when the lights go out.
Cookie Service:
Each pet will get a specialty cookie every night before bed with a FortiFlora sprinkle. Pet Friendly Cookies will range from homemade to store bought but will all have calming properties. FortiFlora is a probiotic nutritional supplement. Proven to promote normal intestinal microflora.
Boarding Policies
Check In
Please allow 10-20 minutes for check in. Additional time may be required if your animal has health problems or special needs. Please have a copy of your vaccination history with you when you arrive if you have not made the information available prior to arrival. If vaccination and testing cannot be confirmed and you choose to leave your pet at our facility, he or she will be tested and/or vaccinated. If fleas, ticks or parasites are found, pet's will be treated at the owners expense.
Medications: All medications must be in their original bottle with your veterinarian's instruction label. No loose or unmarked medications will be accepted. Please be prepared to go over your pet's medication schedule with a lodge staff member at check in.
Pre-Existing Conditions: If your pet has a previously diagnosed illness, disease or condition, please alert the receptionist when making your boarding appointment. This is to better accommodate the needs of your pet (for example if we know a pet has severe arthritis or an orthopedic condition, we know to be careful letting them play hard outside).
Unaltered Females: Females in heat will be isolated from the general boarding area and there will be an additional $8.00 per day isolation charge.
Holidays: Holiday boarding reservations should be made at least one month in advance. There is an additional $10.00 per animal surcharge on holidays.
To expedite check in, please choose one of the three options below for getting your vaccination information to our office.
1. Please have a copy of vaccination history with you upon arrival or fax to the Lodge at 816-479-2950.
2. Ask your veterinarian to fax over a copy of the vaccination history prior to your drop off date. Fax to: 816-479-2950.
3. Give our receptionist your regular veterinarian's name and phone number and we will attempt to obtain your pet's records prior to your arrival. We will notify you of any vaccinations out of date for our policy guidelines.
Please Note:
No animal will be released outside normal business hours unless prior arrangements have been made.